Sears brings new discounts for you. Women's and men apparel,girl's and boy's clothing,baby clothing,bed & bath and window are discount up to %70 off on Sears. This discount which will end tomorrow don't miss!
While you are going to Job,you will need some classic dresses. You will need sports dresses to do sport or you want quality clothes of many brands for children. Sears selected all these requirements for you. Sears offered women apparel and men apperal for you. Especially,its attach importance to be quality and looking good. men's and women's classic pants have several fabric. Men's shirts which made with quality fabric can be drawn your attention.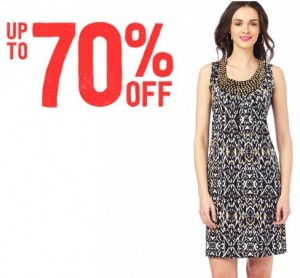 In addition,you can buy sports clothes with cheaper price alternatively.
Some Women's apparel under $25;
JESSICA Skirt, $11.94
Jess blouse, $14.94
Nike swoosh, $24.94
JESSICA sweater, $14.94
Although,choosing baby clothes is very enjoyable,it is difficult mission for fathers and mothers.when people buy something for newborn baby,the first things that comes to mind are creepers,pacifier,booties and toys. Baby products are selected by Sears for you. The most cheapest price of baby items are waiting for you.
Baby clothes choosen for you;
Carter's Tank and short, $8.94
Winnie the Pooh set, $10.94
Disney set, $10.94
Nevada Cardigan, $11.94
Sears introduce new Bed & bath items to have an idea what you can buy. When you browse ,you will like bedding. Especially,Customers prefer white and cream colored items. Products are guaranteed and its are long-lasting product. Products have a visually pleasing design and its are also useful.This is great opportunity for people who design new bedroom.
Some Bed&bath Product
Patina Comforter, $42.94
Fresh Essentials Mattress pad,$56.94
Vivian Bedspread, $64.94
Patina Cushion, $13.94