I am excited when I first met this catalogue. A lot of attractions have been contained with amazing offers which are focused on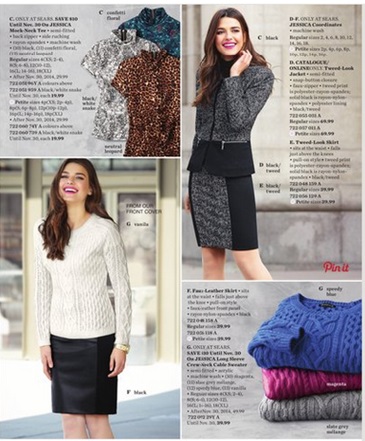 Sears catalogue fall and winter fashion that has been released last week for 2014. This catalogue will be valid for a long time period so you don't have to be hurry from now because you got a plenty of time to take a look at everything. Compare the prices of old ones and new ones. See featured products at Sears at the moment and make your decision at final.
Pretty nice collection has been added to the literature of Sears and to our categories where you are able to reach tens of catalogues of Sears that are available for this year and this season. These seasonal varieties of clothings for women are listed here for you to choose or browse for more information:
* Jessica separates topper, $79.99
Classy looking will aid you to refresh your self confidence while you distance the road to your business. Especially in hard conditions of weather in this season you will be likely to wear this pretty nice topper.
* Jessica long sleeve crew, $39.99
This is one of the ideal sweater that can be considered to be an icon for the decade. These types of decade defining products are always available at Sears stores.
* Tweed-look jacket, $69.99
Amazing offer for this jacket and rare price at Sears is another attraction from the fall-winter catalogue.