Big weekkend sale at Sears.
This week's Sears catalogue offers you special deals in fitness equipments, home appliances,  men's, women's and children's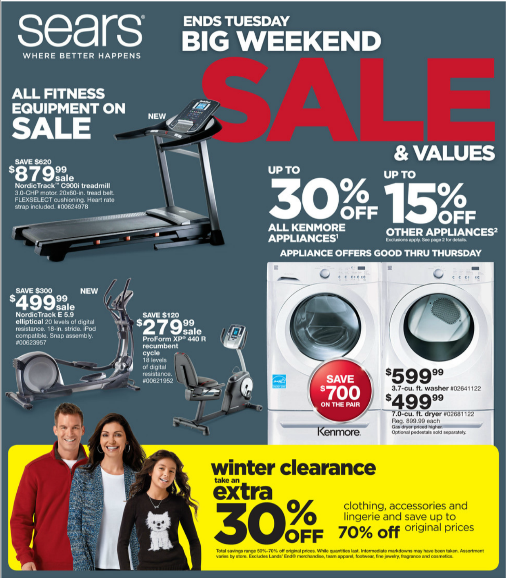 clothings.
Please click the picture to see online catalog.
In addition for the best football experience save up to 800$ at LED TVs.
For Sears members special prices available for 3 day Sunday to Tuesday.  Also you can earn member points when you buy certain products.
Lets take a look at the products on Sears Catalogue.
Special home appliances prices at 2nd pg;
LG 4.5 cu.ft. washer and  7.3 cu.ft. dryer , $647,99 each save up to $304 on the pair
BOSCH dishwasher, $849,99 save up to $100
Kenmore 25cu.ft. refrigerator, $899,99 save up to $400
Sears football experience products. Special prices for LED TVs at 3.-5. Pg;
SAMSUNG UN60F7100 60" SMART LED TV, $1799,99 save up to $800
SHARP LC-70LE550U 70" HDTV $1599,99 save up to $700
TOSHIBA SE40FY19 40" LED TV $279.99 save up to $150. Lowest Price Ever.
All fitness equipment on sale. Get fit with Sears. Special prices starts on 8. Pg;
T6.1 Treadmill super space saver $599.99 save up to $300
NordicTrack C700 treadmill $799.99 save up to $400
AFG 3.1AE elliptical compatible with POLAR $1049.99 save up to $450
NordicTrack E 6.3 elliptical compatible with iPod $599.99 save up to $300
Sears apparel and fashion aisle covered leading brands e.g. Levi's, U.S. POLO and Kardashian's exclusive range. Jeans and teen's clothes have been included and values reduced by amazing percentages. Fulfill your needs of clothing and general home supplies here:
For special appearance Sears is the best choice. Great savings Men's, Women's and Kid's clothing on pg; 12
Graphic tees for young men, $9.99
Kardashian Kollection fashion separates and denim $16.99-$41.99
U.S. Polo Assn. For juniors $9.99-$23.99
Little Wonders layette for newborn $14.00
Special deal for LEVI'S Sears call it buy one get one 50% off.
Available deals are:  Levi's for men
505 regular fit
550 relaxed fit
559 relaxed straight fit for men
Levi's for guys
514 straight fit
511 slim fit
569 loose straight