To decorate your house or living room particularly you need to have a considerable knowledge of the jargon and this kind of the catalogues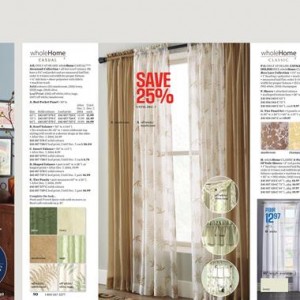 range is only way to learn about these. Of course there are options like blog websites that are talking about these but more importantly you will shop for the decorative items and eventually you will end up with a retailing catalogue or similar sort of exhibition that is trying to sell something to you. Therefore I recommend you to take a look at the catalogues and study some of the products that would be suitable with your style and lifestyle. Moreover the price range information is very important to know about. Since we will summarize and list some of the products of the living room decorative offers of one of the Sears home improvement catalogues. Actually the catalogue I am taking as an example is one of the winter wear catalogue but it also contains some of the pages that are only about the panels which can be considered to be essential portions of your whole decoration work.
* Casual simply chic cape cod collection pair of panels, $39.99
* Montego kaveri print grommet, $29.99
* SpringHome collection Bryant textured foam-black back-tab panel, $34.99
* WholeHome Classic bess lace collection sheers, $9.97
Find these products browsing from pg; 86 on the catalogue page. If you go there you can find further information and details of the products. Additionally please go to official site of the Sears where you are able to get more information and shopping chance as online.