Everyone began to prepare for winter season. You preview the Sears winter apparel catalogue 2015, you can have an idea what you can buy. This winter fashionable products for women is vintage items, black and white dress,fur,velvet dresses,militar clothes,punk,knitted dresses,leopard-print dresses,Plenty Leg Pants.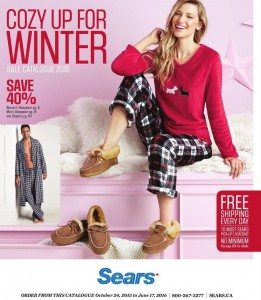 Velvet dress looks very attractive on women from past to present. We see that Velvet products continue to be popular 2015-2016 winter season. Also,Is it winter without fur? Of course not. I'm talking about pet-friendly fur. Colored coats,vest and jackets are continuing to be popular.
Let's talk about the men fashion. We see that this year's fashion colors are green and blue. Men are lucky this year because making combination with green and blue colours are easier than other colours.
FOR WOMEN
Shawl-Collar Coat $227.99
Faux Fur Coat $155.99
Stand-Up Collar Jacket $155.99
Jessica Quilted Car Coat $149.99
Jessica Belted Jacket $139.99
Jessica Down-Blend Anorak $179.99
Prince De Galle Pattern Parka $149.99
ALPINETEK Long Down Parka $249.97
Jessica Down-Blend Jacket $149.99
FOR MEN
Private Member Skri Jacket $85.00
Dockers Hooded Parka $170.00
CLAIBORNE Men's Parka $147.00
ALPONETEK Men's Jackets $229.97
Hurry up! Do not miss the 50% discount and more. Visit the latest catalogues of Sears to have a better selection.