Fun of kids' toys comprising of electronics, chargeable cars which are dreams of boys are sold at amazing prices at Sears. The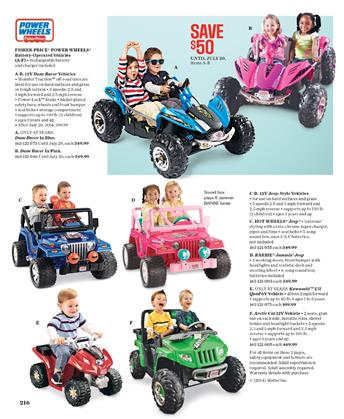 retailer gives us the chance to have this visual and all images of the new products. Some of them are dune racer, 12 volt vehicle, Fiat 500 battery-operated vehicle. These can be browsed on pg; 216 where the Little Tikes and Fisher Price toys can be found. Visit that page to learn about the details of the properties and prices of these entertainment products. Also see play sets, swing sets that are designed for outdoor area for kids. It's been always great fun of kids' life to have time with these products. Big Backyards and Springfree brands are the leading ones here:
* Machester 6-leg swing set, $479.99 pg; 220
* Round trampoline with safety covered, $1,199.99
* Rosedale play set including slides and swings, $1399.99 pg; 218
SUMMER ENTERTAINMENTS:
As the sun appears on the first days of the March some of us will begin to search out these products:
* Rocky mountain river race, $499.99 pg; 223
– LITTLE TIKES more products: SEE ON PG; 224.
– See new values of slide sets for kids of smaller ages.
Numbers of products of essentials for daily life being sold at Sears Stores are easy to find. Similarly it is a perfect catalogue which allows customers finding their entertainment tastes as well.