One of the extremely wide product selections of the Sears Catalogues Christmas gifts, clothing, decoration and entertainment is live now.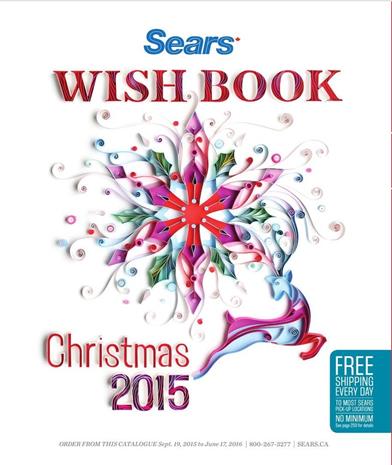 You can easily browse these products. Sears Christmas Wishbook Catalogue October 2015 online selection of gifts, women's fashions, holiday decor, fitness, personal care products, furniture, electronic entertainment products and toys will in front of you one click away. All online customers can shop the lowest prices of the Sears Christmas Catalogue.
Incredible selection, huge product range and extreme savings for everyone are featured on the online shop. Among the Sears' Chrismtas range you can find:
GIFTS including toys, table games, sleepwear, retro products like Coca Cola fridge, 1 Day sale, gifts under $20, and more products are featured on the first 80 pages. Totally 460 pages of the catalogue can be browsed. While shopping online at Sears you will meet the best products of Christmas at Sears with an extraordinary availability and simplicity of options.
Disney Frozen Costumes and Toys:
Tutu Dress, $29.99
Disney Frozen Trinket $34.99
Disney Frozen Softpal olaf light $39.99
Plush olaf backpack $19.97
Women's t-shirt $14.99
Disney Frozen girls' onesie pyjama
Minnie Mouse radio-controlled vehicle $29.99
Disney 2-piece towel set $19.99
MONSTER HIGH COSTUMES AND SUPER HERO TOYS
Clothing and decor products are featured on this section.
Girls' 2-piece pyjama set $27.99
Girls' fleece onesie $27.99
Monster High blanket buddy $12.99
Coca Cola Fridge retro style $99.99 12L
DeLonghi 15 bar pump espresso machine $199.99
Coca Cola T-shirts $14.99
Action Hero t-shirts, Iron Man, Captain America, Spider Man, Star Wars which are available on 18-21. Call Of Duty t-shirts can be seen on pg 22. Sports wear, rock star t-shirts are available on pg 24-25. Nirvana, Pink Floyd, Bob Marley, Led Zeppelin t-shirts can be purchased for $14.99 at Sears.