Classy looking offers by Sears Catalogue are present with the latest ads. You can check these on pg; 17 appearing with cardigans, blouses, plaited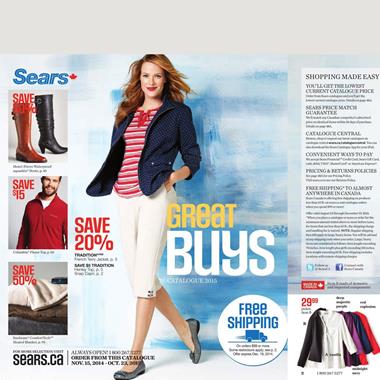 straps and maxi dresses. Besides very good prices are available with these products. You can reach the best clothing range of Sears with this catalogue for such product range.
Sears Offers:
* Long Sleeve lace and chambray denim shirt, $74.99
* Blouse with butterfly print, $59.99
* Crinkled top with plaited straps, $49.99
* Printed Maxi Dress
LADIES WINTER WEAR
Coats and polyfill jackets have been released as priced at new values. A nice example is that of Alpinetek Bomber jacket priced at $159.97 within this extend. Professionally selected winter wear may be your address to fulfill any need of yours related to winter trip that you were planning on these days.
SLEEP WEAR AND UNDERWEAR
Products of sleepwear and underwear brands like Glamorise created another product range worth to see this week at Sears stores. Sears offers :
* Short-sleeve embroidered short gown, $17.49
* Natural wire bra, $31.99
* There is more sleepwear products list on the same pages.
SEARS SPORTS FOOTWEAR
Nike is the leading brand of running shoes and walking shoes for ladies. You might also find "Foamtreads" shoes for both men and women within this range. Don't miss out the new deals by Sears. Also check out Christmas Wishbook.