This time our thread is not about the fashion of women party dresses or bathroom towels. We will get more professional and take a look at the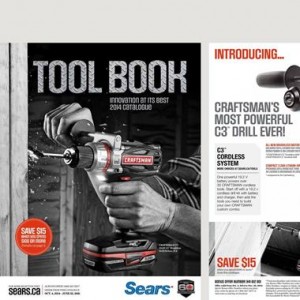 Sears Catalogue Tool Book, an attempt to organize your ideas about having professional power tools and important repairing gadgets to fulfill a serious need at home. This will be of course done with fair prices and high quality products of selection by Sears Catalgoue October. There are products from cordless drill drivers to wet-dry vacuum cleaners within the whole range. Craftsman is a good example among the important leading brands of Sears Catalogue power tools.
* BRUSHLESS DRILL DRIVER, $249.99
19.2 Volt and high performance Li-Ion battery. Beautiful and handy product.
* Also you can find combo kits.
* CRAFTSMAN 4-TOOL COMBO KIT, $189.97
A nice solution for your problem about drilling, sanding, sawing. Perfect products of highest quality by Craftsman. Over 30 products of Craftsman can work with the same type of battery. This is another convenience about the brand and the Sears tool catalogue.
SEARS MITRE AND TABLE SAWS
Another important area of the power tools visited by professionals and daily life users of them.
* CRAFTSMAN SLIDING COMPOUND MITRE SAW, 10″, $249.99 PG; 4.
* TABLE SAW WITH STAND, $399.99
Also see
– Wet-Dry vacuum cleaners on pg; 6.
– Cabinets with handy use on pg; 8.
– Garage products and air compressors on pg; 12-14.
And many more offers of the Sears power tools range is available within the issue. Check out the catalogue pages for more details about the prices and products.