Sears Catalogue brought up the fashion for fall 2014 with the last exhibition we also have on the main page. You can see and browse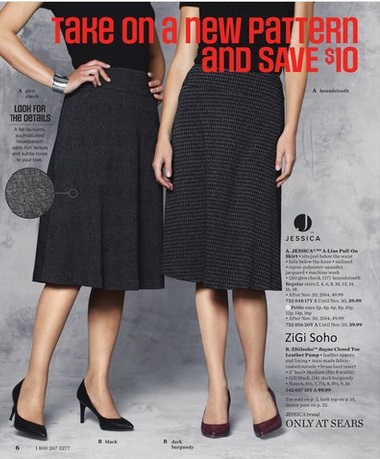 the entire sale on the catalogue page by keeping clicking on the images of the catalogue. A very nice looking example for the fall fashion of Sears can be showed as indicating that page; 14 has a wonderful official wearings for ladies that are daily working. These products can be considered to be among the best designs across the whole country.
SEARS PANTS FOR LADIES
The pants options for ladies available on pg; 14 has an typical business wear options. You can feel the comfort and smartness while you have these on at work days.
* Jessica Modern Fit dress pant, $29.97
Absolutely perfect choice for ladies looking for comfortable and high quality pants for work. Its build consists 63%polyester, 33% rayon that would keep being protective during the fall.
* Jessica Printed crew neck tee, 2 for $29.97
This price for the offer is valid until 2015 May.
* Jessica Dream fit jeans, $39.97
If you are fan of old fashion jeans carrying the understanding of cuts from 90s, this is your stuff.
* Jessica Striped Henley, $24.97
Major brand worth to talk about is Jessica with last Sears Catalogue posted in August 2014.