While we're dealing with the snow and rain storms, we cannot deny the kind of insane fact that spring items are showed by many brands. Taking your mind off freezing snow is quite simple while you are discovering the Sears Catalogue of March 2015 review! Let's forget about the icy and icky weather and see what's new in the Sears catalogu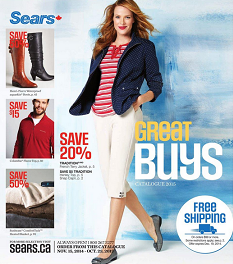 e's colorful pages. First of all, I can say that, denim and cotton wearing which reflect the relation between 60's and 70's will be the conception of this year. What I mean is that there will be no strict borders on this, but soft details will show 60's and 70's us from the eye of the designers.
Are you the one who looks for a great weekend dress? While walking on the street, do you want to feel the freedom of the spring and a pear of eyes that looks over your beautiful dress befitting you? What I mean is, you can be sure that spectacular dresses are waiting for you in the Sears Catalogue, you can be satisfied while looking page by page, and get ready to be get a ton of compliments on this spring dresses.
Out of the spring's casual dresses, there is an another story: what about accessorising in spring? It can be a little tricky, as the clothes of the moment are often colorful, so you should be careful about color balance between your clothes and accessories. To harmonize them, versus compete, having a new neutral handbags or one colored shoes make perfect sense.