A perfect look on the pg; 125 where the price range of the women's fall sleep wear offers are available to browse. Very nice fabric selection and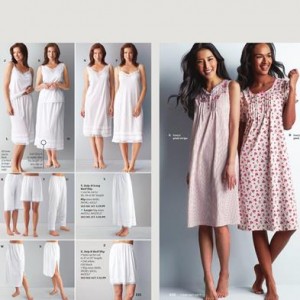 modern work of this fashion will let you have the deep sleep and comfortable wake ups in the mornings. You'll also be able to see new accessory and stylish versions of jewelry products on the pg; 126 at which the price of amethyst 10K is $224.90 featuring 55% OFF until 16 October.
Let's back to the sleepwear offers of Sears on pg; 122. This page offers only sleeveless gowns which are ones of the most popular sleepwear products that women prefer to have. Especially in Fall-Winter season the prices are perfect. Most of the products prices have been reduced by 25% at least within this range of this catalogue.
SEARS WOMEN'S SLEEP WEAR PRICES
You may find a lot more offers like underwear, fall dresses, formal wear and so on within the Fall catalogue.
* Short sleeve nightshirt, $24.99
A popular option preferred by young ladies in fall. Provides the best sleep and enable you to move easily during your sleep.
* Haggar 2-piece pyjama set, $65
Very cool looking pyjama set is available at Sears in this month.
* Dream Sleepers 2-piece pyjama set, $17.99
40% discount on this cool high quality perfectly tailored pyjama set.