Latest Sears Catalogue has as many home products as women's clothings', men's and kids' casual apparels. One of these is Sears air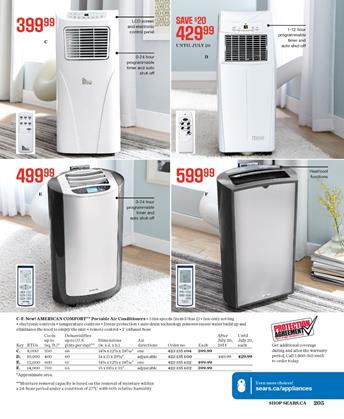 conditioning exhibition with new offers, reduced values. Kenmore, DeLonghi and Frigidaire are the leading brands appearing on the pg; 204-210. They have developed these devices to make everyone easily use them. Because of their simplified use there will be no danger for kids as well. Powerful solutions for your climate in your room or office are also supported with fans like the ones on pg; 208. These might be your additional options for your smaller rooms but these are also strong enough to cool your living room if you set them at the maximum level and turn on some humidity settings.
Also humidifiers are popular within the section of Sears Catalogue about these products. They are on pg; 209 at the moment and variety of models of more number can be found on pg; 204-205.
– Kenmore Dehumidifier portable 3-in-1 conditioner and heater is $649.99 ON PG; 204
– Window air conditioner, $599.99 pg 207
– Portable air conditioner, $599.99 pg; 206
– BIONAIRE transformable stand fan, $89.99 pg; 208
See pg; 210 for daily exercising equipments including treadmill, fitness power tower, home gym set, weight bench and more offers by latest published Sears Canada Catalogue.